Running Better Experiments Training
Make better product and business decisions with actionable data in our five-week Running Better Experiments program. Gain confidence that you're running the right kinds of tests, and refine your experiment process to reduce bias, uncover actionable results, and define clear next steps. Taught by real entrepreneurs with real experience, you'll get results you can use right away.
Next Course Kicks Off Soon
Reserve a Seat
8 hours of live sessions over 5 weeks
11 hours of online material and exercises
6 : 1 attendee-to-coach ratio
Peer-to-peer feedback + alumni group
1-year access + free upgrades
Certificate of completion
What Kromatic Alumni Are Saying
Simon Laubscher, Senior Innovation Partner, Maersk Drilling
"The program was very pragmatic and tangible. The material was linked to examples, making it easy to understand. The coaches were very skilled and flexible in the way they helped us during the journey – it was well-facilitated and very structured."
Jesse Levey, Chief Product Officer, Possible
"The prework, real-work approach, feedback session, and potential for future application is a powerful combination. A lot of value for the time commitment."
Joey Hannes, UX Design Manager
"One thing that impressed me about the experimentation program was how little of the course content was conceptually new to me, yet I feel changed to how I will drive to always experiment."
Practical Training for Innovation Leaders
By innovators, for innovators.
Our interactive program pairs you with a master coach to help you identify the practical metrics needed to make data-driven decisions.
You will:
Identify the biggest risks in your innovation project

Draft real experiments for your real innovation project and get real answers

Define the data you need to collect to reach your learning goal

Run experiments in weeks, not months

Define clear, data-based next steps for your project
Outcome
You'll take home a prioritized list of project assumptions and a backlog of rapid experiments to test your business idea.
Make Real Progress
Each week you will commit to 3 hours of self-study sessions and 2 hours of interactive work with your coaches and peer group to turn theory into practice, making real progress on your innovation project.
Taught by Innovators
Our innovation coaches are experienced entrepreneurs and corporate innovators that have worked with dozens of accelerators and coached across 30+ industries. In addition to weekly sessions, we are always available online to answer any questions about your project.
Running Better Experiments Training
Week by Week Curriculum
Week 1
Kickoff
Get to know your instructors and your peers! We'll do some short icebreakers and then go through a live exercise to understand the challenges of running better experiments that will help you test your business ideas.
Week 2
Business Model Risk Prioritization
Identify the biggest risks of any innovation project and prioritize which to eliminate. All innovation projects come with risks, and successful businesses know how to navigate them. This workshop covers how to brainstorm and prioritize risks with your teams, and clarifies why certain risks are the right thing to focus on at certain stages of a project.
Week 3
S.I.M.P.L.E. Experiment Design
Getting started with rapid experimentation can be daunting, but a few simple tricks will help even advanced innovators focus on their critical risks. The simpler the experiments are, the faster they are to run and gather valuable data. Make quick progress on eliminating risks by using these simple tricks to focus your experiments.
Week 4
Experiment Types: The Real Startup Book
After identifying a clear business question, we need to identify the right method to gather the data that will answer that question. This lean experimentation workshop helps navigate the dozens of experiment and research methods to find the quickest answers to your business questions. Learn dozens of lean experimentation methods for eliminating risks to your business model.
Week 5
S.M.A.R.T. Experiment Design
Innovators who have mastered Learn S.I.M.P.L.E. experiment design can take their experiments to the next level by designing S.M.A.R.T. experiments. The Learn S.M.A.R.T. template introduces additional checks on experiments to avoid cognitive biases that can send teams down the wrong path and derail an innovation project. Eliminate risks by designing smart experiments and avoiding typical pitfalls of experiment design.
Jon Ruark
Jon is an Innovation Coach with 17 years of Department of Defense and Intelligence Community experience. He is passionate about helping organizations become data-driven and helping entrepreneurs figure out where to start. Jon is an expert in hypothesis testing, business experimentation, innovation accounting, and MVP development.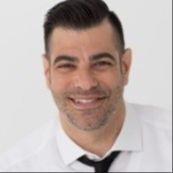 Peter LePiane
Peter has acquired a unique blend of experiences over the last 3 decades. He has advised large enterprises through agile and innovation transformation, volunteered in a fledgling venture capital firm, mentored startups in various incubators, professionally coached leaders and their teams, and operated as a change management consultant.
Kromatic has 56 partners in 16 countries with 1 mission: to help you re-design organizations, processes, and environments to make innovation a sustainable competitive advantage.
Frequently Asked Questions
Do you offer any discounts?
I can't make this schedule. Is there an alternative?
Do I need to bring my own project?
What if I have privacy concerns about my project?
Is this program for non-profit, government, or mission-impact projects?
Are there any prerequisites?
The materials have completely changed my approach to sizing problems and opportunities and presenting the internal value of ideas.
Paul Taylor, Innovation Coach, Bromford
This was definitely the best online training that I've participated in. Others were designed for a big audience, but this was more personal – you really had the individual approach and the possibility to reach out to a coach.
Simon Laubscher, Senior Innovation Partner, Maersk Drilling
Hold My Seat!
We'll add you to the waitlist and send you more information.
You will receive access to all Free Kromatic resources, news, and updates.